Its week SEVEN of the Spring 2023 One Room Challenge, and we are now one week from Reveals!! In case you are new here, this is my second One Room Challenge – click here to see my Dining Room and Butler's Pantry Reveals from this past fall. This time, I'm refreshing my formal living room, or "parlor" as I like to call it, by wallpapering the ceiling, painting the walls, and adding a lot more character. The One Room Challenge is a biannual online event where home bloggers and design professionals endeavor to complete one room (or two, like I did in Fall ORC '22),  in eight weeks! Each week we share our progress on our blogs and social media, leading up to the final reveal in Week Eight – which this year will be May 24-28. The ORC is not a competition, as there is no winner, just a supportive group of like-minded design enthusiasts challenging themselves to complete a room in eight weeks. Huge thanks to Linda Weinstein, the creator and director of the One Room Challenge, and Apartment Therapy, official media sponsors of the ORC!
A Big Update on the Parlor Paint
In last week's post, I showed you all the new paint and the wallpaper on the ceiling. I also mentioned there that I had a really hard time deciding what to do with the trim in the room. I had asked my painters to try out a sample of SW Tricorn Black on the trim, as well as BM Ciao Bella, which is the wall color, and here's how they looked:
As soon as I saw the two colors on the trim, I was able to eliminate Tricorn Black because adding a dark wallpaper (Milton & King's Flower Pool in Full Bloom) had already made the once bright room considerably moodier, and I didn't want it to go too "Goth", I guess you could say! And although I really, really loved the way the crown moulding looked in Ciao Bella, I knew that would mean my painters would not be able to finish the job that day, and we wouldn't even have enough paint to cover all the moulding, baseboards and window trim and mullions. So I called it a day and kept the trim white. And then I hated it. Every time I walked past the room I felt a sinking sensation in the pit of my stomach that I had missed an opportunity. I also felt like the white trim against the pink walls looked somewhat juvenile, which was obviously not the look I was going for. So after agonizing over it all weekend, on Tuesday, I asked my painters (Victory Renovation Services), if they might be able to come back to do the trim. They happened to be working on one of my client's homes just a couple of miles away, and because they were working in unison with the contractor installing my client's board and batten paneling in their dining room and foyer, it made sense for them to take a break for a day so the the carpenter could finish his job without working around them. So Wednesday morning at 8am, they arrived at my house to paint all the parlor trim – and I have never been so happy to have changed my mind!! I am not IN LOVE with the huge impact it made to the room to have all the trim painted the same as the walls. It also made my ceilings look taller, and really helps accentuate the gorgeous wallpaper – "color-drenching for the win!!! I forgot to snap a shot of the room with the trim painted before I hung the curtains and added all the furniture, art and accessories back in, but you'll get a peek down below!
Gallery Wall Inspiration
As an interior designer, one of the most important design elements in any of my projects is art. When working with clients, I love incorporating art they already own, or helping them choose new pieces to add to their home. I think art says a lot about who the people living in the home are, and if you choose pieces you truly love, you will never get tired of looking at them. Art is often a jumping off point in my designs, and I find it a wonderful challenge to design a room around one or two pieces of special art! And when I say "special art", that doesn't necessarily mean it has to be priceless or museum-worthy. One of my favorite projects was rounding up all of the colorful, lively artwork of the clients' three daughters, framing them in a mix of vintage and modern frames, and creating a gallery wall in their family room!
And speaking of gallery walls, I am a huge fan of them. Although one big, statement piece of art can be fabulous, a whole wall of interesting, curated art can really tell a story. In my own home, I already have one big gallery wall leading up the staircase from the family room, and I love it so much! The rest of the room isn't quite finished, and since I tend to be a perfectionist with photos, I haven't posted it here or on social media yet. But I still have lots of art that either didn't make it into that gallery wall, was already in my parlor before I started the ORC, or is new (or vintage, but new-to-me), that I want to use in this room. So I thought this post would be a good place to introduce some of my favorite pieces I'm planning to hang once the wallpaper is hung and the walls are painted. But first, let's check out some of my inspiration shots for this room:
This entryway image has been an inspiration to me for years! I love the black floor (still wondering if I should have gone black with my hardwood floors), and black trim, contrasted with the coral walls. Those walls provide such a great backdrop for this amazing gallery of paintings, photographs, and 3-D elements. I LOVE a bold black and white stripe, and this stair runner is no exception, and the multicolor rug, yellow upholstered chair, and white console all help pull together this fabulous vignette!
The San Francisco Proper Hotel was designed by one of my favorite designers, Kelly Wearstler. I had first seen photos of it in her book, Evocative Style, a couple of years ago, and was immediately smitten by her use of vintage pieces, color, pattern, art, and contemporary elements. I was lucky enough to stay there earlier this year, when I went to visit my oldest daughter at UC Santa Cruz. We spent a couple of days in San Francisco, so of course, staying at the Proper was my first choice! The design of this hotel has had a huge influence on my overall design scheme for my home, and this gallery wall is a huge contributor! The way she curates the perfect grouping of art that are different mediums and eras, but all work together so perfectly, is awe-inspiring. Here's another wall in the lobby of the Proper:
Composing the Parlor Gallery Wall
Before starting this ORC, I already had a few pieces of art hanging in the parlor, that I knew I wanted to keep. This painting was done by my husband's Aunt Margie years ago when we lived in South Africa. Margie came to painting later in Life, and started out by "copying" classic pieces. She painted this version of Gustav Klimt's "Girlfriends", which she then gifted to us. It has hung in different places in our home ever since, but I knew the colors would work perfectly in the parlor, and in the overall composition of the gallery wall.
So this piece became my jumping-off point for the gallery wall, and I then started choosing other pieces that would work well with it. My first idea was a watercolor portrait that had been done of my mom when she was only 19 years old – so around 1963 – by an unknown Hungarian artist. My grandfather was part Hungarian, and he and my grandmother went to visit Hungary, and asked a family friend to paint a portrait of my mom from a photo of her they had brought with them. My parents have had this painting in their home for as long as I can remember, and my mom told me she had always planned to pass it down to me, so when I asked her if I could have it early to include in my parlor gallery wall, she graciously agreed to have my dad pack it up and ship it from Arizona to me. Thanks Mom and Dad!! I was so excited to bring it into my home, and was extra happy to find that the original photo of my mom that the painter used as his inspiration, was still taped to the back of the painting!
Isn't it beautiful?! Actually, to be perfectly honest, I don't think the painter did my beautiful mama justice in this portrait! But to his credit, the painting has a lovely, impressionistic style, so he's forgiven 😉 I also love the vintage matte and frame, and was so happy that the whole painting arrived in perfect condition.
Also in my existing art collection, I had this original Toulouse Lautrec advertising print that my husband gave me for our 20th anniversary. We have both always loved Lautrec's work, so this piece has special meaning for us, but I didn't know the entire meaning until I researched it. Read this article for a whole new perspective on the meaning behind it!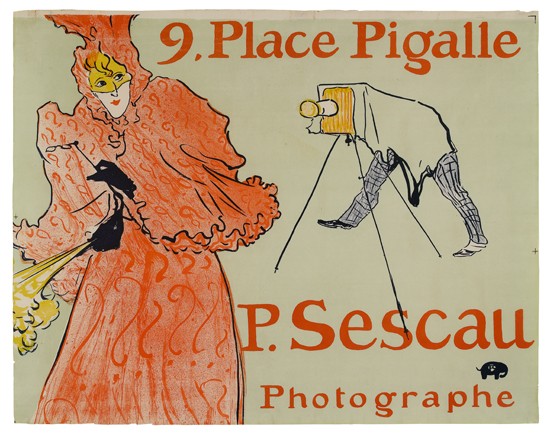 So now I had the three  paintings, all different in style, but with enough similar colors that I knew they would work together and in the overall room scheme. I knew I wanted to add something modern to the mix for some interest, and found this little 1950's Geometric Abstract painting on Chairish
Another fascination I have is with Lover's Eye painting. I've seen them here and there, and set out to learn more about them. I discovered they started as jewelry, and found this great blog post from Katie Considers which gives a little history lesson on them. Basically, "lover's eye jewelry was popular in the late 1700s and early 1800s when stylish aristocratic Englishmen and women often wore the miniature portraits depicting their spouse or lover. Because the tiny watercolors revealed only the eye, the subject's identity could be kept secret". So mysterious and romantic, right?! Now knowing the history, I decided I had to include one in my parlor, and set out to find one on Etsy! And of course, within no time, I came across this Etsy shop in Turkey who hand paints them, and frames them in small, vintage frames. I chose this one because I loved the oval, brass frame, and the soulful, dark blue eye.
As mentioned above, I also love incorporating kids' artwork into gallery walls, and my son had done this pastel of a Red-Winged Blackbird. Calvin's favorite pastime is fishing, and there was a pond in our old neighborhood where he had a little canoe and would spend entire summer days floating around and fishing. He loves the sound these birds make, so when his 8th grade art teacher gave them an assignment to do an oil pastel of a favorite bird or animal, this was an easy choice for him. I may be a little biased, but I think he did a wonderful job, and immediately knew I wanted to frame it! I love the simple style of it mixed in with the rest of the art.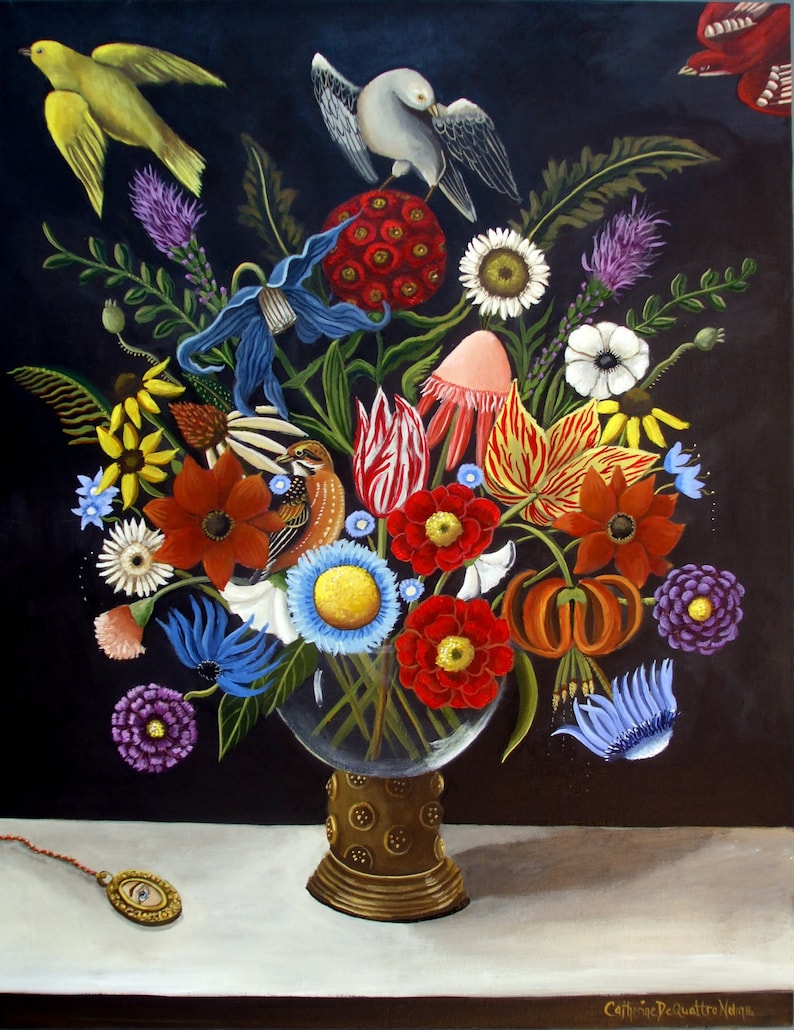 Another artist I've found on Etsy whose work I adore, is Catherine Nolin. I love all of her colorful, whimsical, work so much, and had a really hard time deciding which piece to add to my collection, but when I found this piece, I knew it was perfect! Not only do the flowers nod to the floral wallpaper on my ceiling, but look in the lower left corner – there's a Lover's Eye locket on the table!! Even though it's a tiny detail that most people won't notice, I love that kind of  little secret 🙂
I first framed it in a mirrored frame I found at Michaels, but something about the white matte and glass seemed to distract from the art, so I scratched that idea and found a vintage frame in my collection that is almost the perfect size
So much better, right?
And the last piece I added to this gallery wall that I want to mention is this beautiful framed Butterfly Mount I bought while visiting Charleston, South Carolina for a girls' weekend last month. I have a thing for butterflies, and already own several framed specimens, but when I saw this frame which contained NINE gorgeous butterflies in such brilliant colors, I had to have it! I found it at Charleston Butterflies in the Marketplace, and their selection was incredible!! They have their own butterfly farm in the rainforests of Peru, where all of their butterflies are sustainably farmed.
Here is the nine butterfly mount I chose:
So, once I gathered all of these pieces together, I laid them out on the floor to see how they all worked together, and to see if there were any gaps that needed filling. The day before we painted the room, I decided to start hanging things on the wall to get an idea of placement, then took a photo before taking everything back off so the painters could paint. This is how it looked:
It was looking a bit sparse, and I really wanted to fill as much of the wall as possible, so I pulled a few more framed pieces from my basement storage, including a very cool vintage photo of The Queen's Road, Hong Kong taken in 1919, we purchased while visiting there years ago.
Hanging the Gallery Wall
By the time Victory Renovation Services had finished painting all the trim on Wednesday, that only gave me Thursday to hang the curtains, put all the rugs, furniture, art and accessories back into the room, plus style it for the reveal photo shoot the next day! When I have plenty of time to hang a gallery wall, I typically like to lay everything out on the floor to find the best configuration, then ideally have someone help me hold pieces up so I can stand back and get perspective. But I didn't have that luxury this past week, so I just started hanging! I knew I wanted my anchor piece – the Klimt reproduction – to hang in the middle of the wall, similar to where it was in the test run, above. So I measured the width of my wall, divided that in half to give me the horizontal mark. To decide on the vertical mark, I usually go with about 57″ from the floor, which is a good average eye level height. Once that was hung, I just started hanging everything else around it. There were only two pieces that needed to be rehung, causing unwanted holes in the walls, but they were luckily covered up by the other art. And here is how it turned out – did I make the right choice to paint the trim the same as the walls?!?
So that's all the sneak peeks I'm going to give you for now! To see the rest of the transformation, check back next week for the big reveal!! And don't forget to check out all of the other One Room Challenge participants' Week Seven updates here!
Here is my ORC progress
Week 1  ||  Week 2  ||  Week 3  ||  Week 4  ||  Week 5  ||  Week 6 ||  Week 7  ||  Week 8